Last updated on November 17th, 2018 at 07:28 am
A projector refers to an output device which can reproduce images acquired from Blu-Ray player, computer, smartphone or similar input units onto a wall or screen. The projected surface needs to be flat, large and lightly colored for making the most out of video projection.
Using a large screen also ensures maximum visibility and becomes crucial whenever you are delivering a presentation or screening a movie in a room filled with a large number of audience.
Either still (slides) or moving images (videos) are produced by the projectors which usually weighs around a few pounds and is similarly sized as that of a kitchen toaster.
Today we shall take a look at the top ten projectors available in the market.
Now, we shall start our discussion by browsing through some common projector jargons so that you do not face any difficulty in understanding its dynamics.
Common Projection Jargons
Keystone
For gaining a rectangular image, the projector needs to be placed in a perpendicular manner to the screen. This characteristic is termed as keystone. Most of the modern-day projectors offer digital keystone correction both in vertical and horizontal planes.
Lamp Life
Lamp life has a major role to play in determining the ultimate efficacy of the projector as it contributes heavily towards the cost of ownership. Thus, it is mandatory to consider both lamp replacement cost and lamp life at the time of purchase. An average lamp can last between 2000 to 4000 hours although in reality it might sustain a bit more. However, it should be noted that the output derived from the lamp diminishes over time.
Letterboxing
Certain movies are shot in 16:9 widescreen mode but displayed in standard video formats of 4:3. In such cases you will notice some black bars both above and below the display area which is termed as letterboxing.
Aspect Ratio
This refers to the ratio of width to the height of the screen or an image and is expressed by two numbers which are separated by a colon. Thus, if the aspect ratio of a particular image is 16:9, then the length of the image from left to right is 16 and height is 9 inches.
3LCD
Individual LCDs for green, red and blue are used by a 3 color LCD system wherein light emitted from each LCD is combined with the aid of a prism for creating a final image. Compared to single chip LCD or DLP designs, it offers much better quality.
Screendoor Effect
Whenever you are sitting very close to the projector, you will see certain fine lines in between individual pixels appearing on the wall or screen. This is known as Screendoor effect and does not pose as a big concern if you are displaying static images. However, it might bother you while screening videos or movies.
Artifacts
The defects or flaws in an image can be caused by an array of factors ranging from transmission loses to poor/inadequate resolution, not using correct cables and poor quality video cables.
Contrast Ratio – (ANSI vs Dynamic)
This refers to the difference between the brightest and darkest pixel. As a rule of thumb, it is always advisable to proceed with a projector offering higher contrast ratio as it indicates your device's capability of rendering darker areas in a better manner while the lighter areas are kept adequately lit. Although the dynamic ratio might be higher and unrealistic at times as it measures the difference in between an all-white and all-black image, ANSI provides an even playing field which makes it easier to conduct comparisons. A pattern of 16 alternating black/white squares is used for measuring the same.
1. Optoma HD143X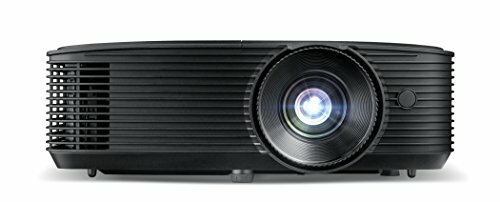 Given an affordable price tag, the Optoma HD143X doesn't fail to stun with its minimal input lag for gaming, three-dimensionality, solid 3D performance and combination of contrast.
It also has the stellar advantage of not showing any rainbow artifacts like the other Optoma projectors available in the market.
Although the brightness offered by it is lower than its contemporaries, it does not cause any noticeable difference in the image size given a specific light level.
Crisp and edge-to-edge focus is delivered by its lens which aids in retaining the quality of pictures having repetitive patterns.
An impressive lamp life of 12000 hours can keep the projector running over a stretch of 10 years even when you watch a two hours' movie on a daily basis.
The dual capabilities of its 1.1x zoom and throw ratio ranging from 1.47-1.62 aids with seamless installation in varying spaces for projecting up to 300 inches' screen.
You can pair up the Optoma HD143X with gaming PC, Blu-ray player or even a console for transforming your living room into a giant screen theater.
Whether it is a soccer finale or your favorite Hollywood blockbuster, this versatile projector is bound to keep you coming back for more.

PROS:
Overall cost of ownership gets reduced by prolonged lamp life.
Stunning movies and games are projected at full HD resolution of 1080p.
Offers fast lag time.
High-end sound is delivered by its 10-watt mono speakers which can easily fill up a small room without any distortions.
Consistently realistic color is delivered by its Game mode making it the perfect choice for casual daytime viewing.

CONS:
Requires comparatively longer when compared to its peer projectors for being synced with a signal.
Heavier and bigger than other entry-level projectors.
2. Nebula Capsule Smart Mini Projector by Anker
The Nebula Capsule smart mini projector by Anker has been manufactured to usher in supreme portability with its drink-can sized design.
While a series of control buttons are stacked on its top, a HDMI port, micro USB port and speaker are positioned on its side coupled with a keystone correction control and the lens.
It's very shape allows the mini projector in being carried around your bag along with its accompanying remote and charging accessories.
Another attribute which deserves special mention is its 5200mAh battery which can keep the projector up and running for a stretch of four hours.
The projector runs on 7.1 Android which might prove out to be a bit disappointing for regular Android users. It also doesn't support Google Play Store thus shunning you from accessing a plethora of applications.
However, you can make use of its replacement Aptoide TV for accessing some popular applications such as Plex, Netflix, Hulu etc.
The built-in file manager of Anker aids in downloading the APK files of your favorite apps for being installed simultaneously.
You can thus download any compatible Android application with minimal time and effort for being used on the Nebula Capsule.
The Capsule Control application also works pretty seamlessly by allowing you to use your smartphone as a remote and trackpad for the mini projector.
Coming to the division of sound, its 360° omnidirectional speaker can easily fill up your room with sonic sound waves as the advanced DLP technology paves the path for radiant pictures having 100 ANSI of brightness.

PROS:
Stellar battery life.
Promising android operating system.
Capsule Control application works pretty well.
Equipped with powerful omnidirectional speaker.
Crafted using aluminium which ensures supreme durability at a meagre weight of just 15 oz.

CONS:
Lacklustre brightness and resolution.
Remote can prove out to be a bit buggy.
3. Epson VS355 WXGA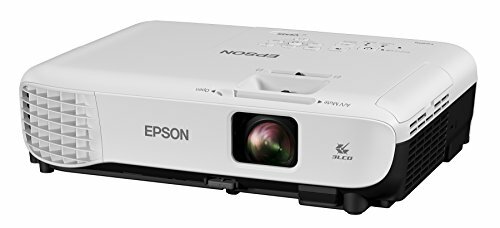 The Epson VS355 WXGA 3LCD projector offers enhanced resolution making it an ideal pick for HD-quality presentations. This portable model having a thin and light frame delivers 3300 lumens of brightness which helps it in projecting vivid images even when viewed in well-lit rooms.
In comparison to its SVGA peers, the WXGA model sets the stage for a stellar resolution of 1280*800 which can help you in seeing twice as much detailing.
You can thus make the most of your visual experience with 3x wider color gamut and brightness in comparison to competitive DLP projectors as well as spot-on color accuracy.
Coupled with HDMI support, you can easily connect the VS355 with the latest media players and laptops for making the most out of big screen entertainment. It does a brilliant job of capturing the intricate detailing in dark scenes although a modest loss of detail could be experienced in bright scenes.
Given its LCD based technology, the VS355 is immune to the distracting rainbow effect which can be frequently seen in its DLP contemporaries.
It is imperative to note here that white light output is measured in accordance with ISO 21118 whereas color light output is measured with IDMS 15.4.

PROS:
2x resolution compared to SVGA projectors making it a perfect choice for widescreen laptops.
Easy image adjustments and convenient control.
Fuel efficient model which reduces the emission of greenhouse gases.

CONS:
Can be pretty difficult to focus.
Lacks double serial port for hooking up the projector and monitor.
Loud fan noise.
4. BenQ WXGA Business Projector (MW526AE)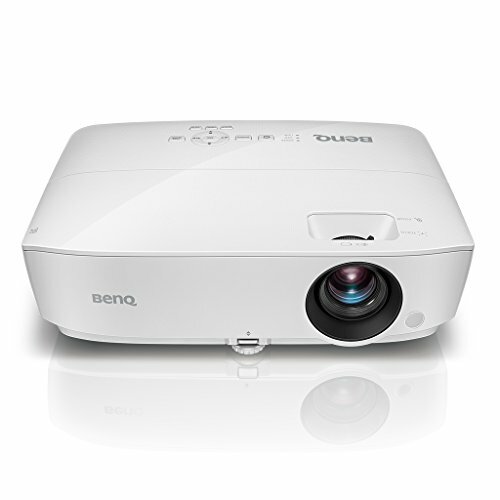 This compact entry level projector packs in a solid punch in terms of features given its supreme affordability. Its state-of-art DLP technology uses a spinning color wheel for reflecting light and projecting the same onto your screen or wall.
The image size varying between 60-300 inches depends primarily on the distance at which the projector is set up from the screen and whether the 1.2x zoom is deployed.
A native resolution of 720p and contrast ratio of 15000:1 can join hands together to help your eyes experience a wider gamut of color range and variation. Coupled with 3300 lumens of brightness, the MW526AE can be your perfect choice for movie projection even in a well-lit room.
A wide range of input and output options such as 2 VGA inputs, an S-Video input, 2 HDMI inputs, a USB connection and a mini audio input and output are lined up in the rear panel making it extremely easy to connect various equipment with the projector.
You can also make the most of the 3D capability of this model with the optional 3D glasses which have to be purchased separately.
While using the projector in Eco Mode, its lamp life can sustain up to 10000 hours whereas normal mode can keep you covered for 4500 hours.

PROS:
Razor-sharp readability.
Smooth gradational mid-tone color transitions.
All-glass optical lens systems delivering ultimate clarity.
Dual VGA and HDMI inputs can host multiple presenters and their devices simultaneously.
Additional flexibility offered by its triple adjustment feet which aids in its movement.

CONS:
Audio quality is not up to the mark.
5. Epson EX3260

If you are on the lookout for a portable projector which can retain its potential even in well-lit room, then your search is bound to come to an end once you stumble across the Epson EX3260 SVGA projector supporting the maximum screen resolution of 800*600 pixels.
Weighing at just 5.5 pounds, this 3LCD projector uses three LCD panel chips to pave the way for higher color light output in comparison to single-chip DLP projectors.
You can also carry along the projector easily coupled with its accompanying bag which features light padding and Velcro closure in the front flap. You can come across indicator lights, horizontal keystone correction control and buttons for menu navigation and power at the top of the projector which supports various options for mounting the same although mounting brackets are not included in the package.
You can choose to display from ceiling mounts or front table through the menu. The projector also features manual horizontal and auto vertical keystone correction for handling situations when the projector is not perpendicular to the horizontal and vertical center lines of the screen.

PROS:
Can be mounted in an upside-down manner.
3300 lumens of brightness pave the way for more vivacity and accuracy even in well-lit rooms.
Convenient control and easy adjustments.
10000 hours of lamp life minimizing total ownership cost.

CONS:
Ceiling hanger has to be purchased separately.
6. ViewSonic PA503S 3600 Lumens SVGA HDMI Projector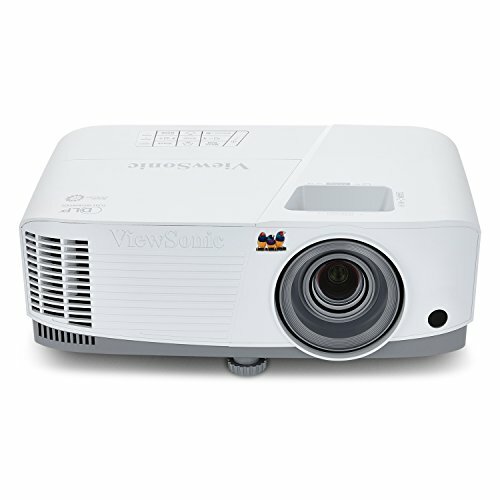 The ViewSonic PA503S projector paves the way for impressive visual performance which can cater to the requirements of both classrooms and business meetings.
It guarantees to reproduce the finest of details irrespective of the environment and for longer spans of time with longer lamp life and higher brightness. The SuperColour™ technology helps the PA503S in offering wider range of displayable colour while ensuring true-to-life color accuracy without sacrificing the image quality.
You can take your pick amongst various lamp modes for extending the lamp's lifespan. The projector will automatically switch to SuperEco and Eco Mode when the Power Saving setting is on and without any signal input. The automatic sleep timer feature can be of great help if you forget to shut off the projector especially in public spaces such as meeting rooms or classrooms.
Coupled with this feature, you can select a period of inactivity following which the projector would put itself into sleep mode automatically. A contrast ratio of 22000:1 and 3600 ANSI Lumens of brightness guarantee the production of exceptionally bright images. You can take your pick from the five unique preset viewing modes for making the most out of various settings available.
Users can even project 3D content directly from HDMI-enabled devices like tablets, laptops and media players to the PA503S projector. Eight different remote control codes can be assigned to the projector through a single remote control for effortless configuration, projector selection and operation.
The on-screen presentation timer aids with time management during presentations by emitting a beep signal so that the presentations can keep on running timely.

PROS:
Energy-saving design which lowers down the total cost of ownership.
Bright images guaranteed in nearly any environment with 3600 lumens of brightness.
Smooth images delivered by the projector without any delay.
Faster frame-by-frame action guaranteed by its ultra-low input latency of 16ms.
Dynamic lamp control capabilities and 6-segment color wheel to provide stunningly beautiful images.

CONS:
Lacks lens cap.
Difficult to get the picture to display squarely on the screen.
Large and bulky stature.
7. InFocus Corporation IN114v XGA Projector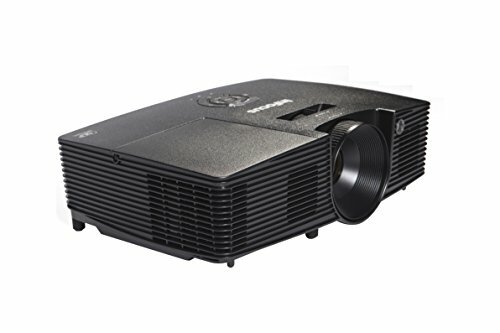 This budget projector utilises a DLP light engine rated at 3500 lumens which teams up with native XGA 1024*768 resolution and contrast ratio of 17000:1 to present you with vibrant and true-to-life visuals.
Weighing at just 5.18 pounds, the projector ranks high in portability which can keep you covered especially if you wish to take your entertainment outdoors. The BrilliantColor technology paves the way for the darkest of blacks and whitest of whites. You can enjoy best image quality by projecting on a whiteboard, beige wall, blackboard and similar surfaces.
Apart from its affordable price, customers can also benefit out of its long-lasting lamp life of 10000 hours which is bound to bring down the operating cost in the long run.
The IN114v supports various forms of 3D including Blu-Ray, HDMI, video games, 3D broadcasting and PC connectivity. You will just have to purchase 144Hz DLP Link 3D glasses for synchronizing the image seamlessly for a mind-blowing 3D experience.
The Eco Blanking feature on the remote control helps in dimming the screen instantly for diverting your audience's attention towards yourself. It also aids in lowering down the lamp's power usage to 30% when the projector is not being used.

PROS:
Comes with a remote, power cable and VGA cord.
The projector has a product warranty of 1 year, lamp warranty of 6 months and accessory warranty of 90 days.
Has keystone adjustment feature.

CONS:
Lacks port for USB thumb drive.
Built-in speakers are not up to the mark.
8. EUG HD LCD Wireless WiFi Video Projector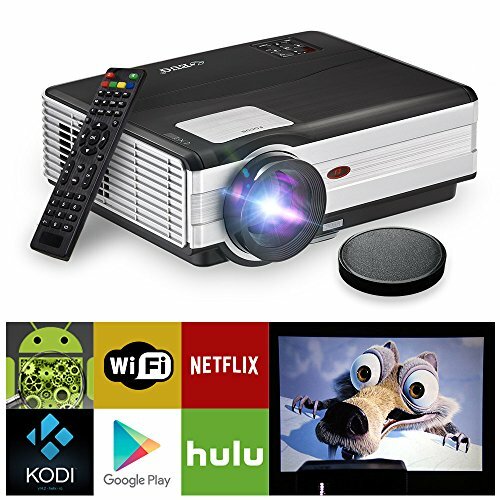 The EUG video projector features an easy-to-navigate Android system which makes downloading applications and running the system seem like a cakewalk. Its quick response system ensures that you do not face any lag while working with YouTube, Kodi, Netflix, Hulu, Vudu, Sky TV, WWE, Foxnow and similar applications.
Convenient WiFi integration helps in mirroring content smoothly over Miracast, Airplay and DLNA screen share. 60Hz of refresh rate delivers latency-free performance which is ideal for motion-sensing and fast-action games.
Wide angle prime projection lens aids in projecting larger images ranging from 50-200" over a shorter distance. The dual combination of 4000:1 contrast ratio and 1280*800 resolution paves the way for vivid, bright and colorful pictures having intricate detailing.
The durable LED lamp life of 50000 hours enhances the overall brightness from the projected image without sacrificing any color information, the resultant being sharper visuals devoid of any "screen door" or "Rainbow" effect. You can connect your Mac, tablet, smartphone, iPad, laptop, iPhone, game consoles, mouse, keyboard etc. with the projector through the HDMI, Aux, AV, VGA and USB interfaces.
The projector is crafted using flame-resistant ABS shell having top-notch chips and circuitry which ensure complete safety and reliability with its CE & FCC certification.

PROS:
Easy to use.
High refresh rate and picture clarity.
Can be easily connected with a smartphone or laptop.
Projector has a Bluetooth transmitter plugged in the audio for using Bluetooth speakers.
Picture quality does not become lacklustre even in the presence of ambient light.
Does not inflict any harm on our eyes.

CONS:
Sound quality is below average.
9. WOWOTO H8 Video Projector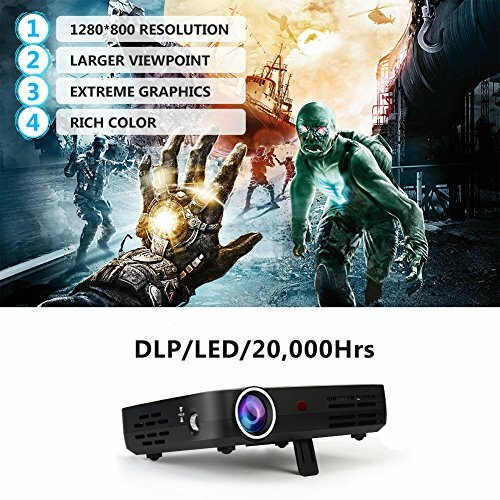 Featuring a native resolution of 1280*800 and 2000 lumens of brightness, the WOWOTO H8 video projector can be your perfect choice for taking your entertainment to the big screen.
You can download and install applications of your preference for projecting it on the huge screen which can range up to 300". An external speaker can also be connected with the projector for filling up the room in sonic waves which is bound to delight audiophiles.
You can make use of Miracast, Airplay, Ushare and DLNA for sharing smartphone resources through the gigantic screen. The requirement of wires and plugs are completely nullified with this wireless model which can prove to be extremely convenient for those who are always on the move.
Weighing at just 0.5kg, this matte black projector can be set up easily for catering to the entertainment requirements of your whole family without having to fumble with the operation metrics.
Coupled with 20000 hours of long-lasting LED lamp life, you won't have to worry much about replacements in the upcoming 7 years even when the projector is used for 8 hours every day.
Every DLP projector manufactured by WOWOTO comes with a 12 months' warranty and a responsive after-sales team is always on call to answer your queries within 24 hours.

PROS:
Extremely quiet operation.
Built-in Android 4.4 which can stream almost everything.
Straightforward menu having 3 slots to save your favourite applications.
Supports mirror casting.
Built in WiFi and Bluetooth.

CONS:
Manual is not of much help.
Difficult to cast the screen with Miracast.
WiFi antenna could have been stronger.
10. Optoma S341
Optoma has served as a market leader in the field of video projectors and its latest S341 model does not differ from the rest coupled with its stellar attributes.
Apart from being visually appealing in terms of its design, the Optoma S341 also ranks high in terms of utility.
The lamp life gets extended by its advanced cooling technology while the connectors grouped at its back aids in accessing the same easily while maintaining a clean look of the projector.
A focus ring along with a plethora of buttons in housed at the top of the projector which aids in navigating through its digital interface.
The one thing which is bound to delight you from the very first time of usage is the stellar contrast level of the projector which definitely steers clear from all signs of being 'washed out.'
Its high-quality lens produces clear and sharp text which might cause the pixels in texts to become visible at times.
This is the very reason behind the inclusion of 'edge mask' by Optoma which smooths out jaggy lines by blurring the image.
The said feature can prove to be exceptionally helpful while using diagrams or watching videos having lower resolution.
However, it is advised to turn off the same while dealing with vector diagrams. The S341 is accompanied with a carrying bag which enables easier transportation and makes the projector an ideal pick for holding presentations.
Advanced optical lens paves the path for deep shadows, highly detailed graphics and astonishing textures.

PROS:
Impressive lamp life of 10000 hours lowers the cost of ownership.
Brightness on projection surfaces gets improved by its Wall Color Adjustment feature.
Extensive connectivity options for hooking up the projection with different devices.
Edge mask feature aids in hiding soft edges.
Can be used for rear projection.

CONS:
Loses its brilliance in the presence of ambient light.
Conclusion
Gone are the days when we had to rush to the movie halls time and again for catching a glimpse of our favorite stars in the big screen. Entertainment has attained a brand-new address and that is within the four walls of our home.
You just need to bring home a projector which shall be in sync with your requirements and the parameters of your room. Modern day models are offering wireless technology so that you can bid adieu to the complex wires which are infamous for limiting your potential.
All it requires is just a simple tap of the finger to mirror the screen of your smartphone, laptop, PlayStation etc. with the projector screen.