Last updated on November 17th, 2018 at 07:19 am
The technology used by projectors can be broadly broken down into two types – reflective or transmissive.
LCD projects are considered to be of the latter category since they pass light through LCD panels rather than bouncing it away. A DLP projector on the other hand makes use of mirrors for directing the light in an image.
Thus, they are considered to be reflective. This leaves space for a third type termed as LED which is named after the light source rather than the type of projection technology.
Today we are going to take a look at some of the best projector models available in the market.
Now we shall discuss in brief about the types of projector technology.
Types Of Projector Technology
DLP Projectors
These projectors have a sealed chip and filter-free design which does not allow dust to settle on the chip which is infamous for causing an image spot. They are also immune to color decay and are not subject to misalignments which might occur in LCD projectors having a three-panel design. However, a rainbow effect might be experienced in DLP projectors having slower color wheels where you might come across bright flashes of color appearing on the screen in a way similar to rainbows. Most of the DLP projectors are not compatible readily with lens shift function or zoom lenses making them best suited for smaller environments.
LCD Projectors
Compared to film projectors, the technology embedded in the LCD models is much more reliable and established. However, dust particles might interfere with the image quality making regular maintenance essential. LCD projectors devoid of much moving parts might be cheaper than its DLP peers. They are also compatible with lens shift and zoom lenses thus supporting larger setups where greater projection distance is required. These attributes make the LCD projectors the ideal choice for at-home cinema projects if you can manage a smooth projection surface.
LED Projectors
These projectors are defined by the lighting used rather than the display technology. As a matter of fact, some DLP projectors running on "solid-state illumination" technology are termed as LED projectors. Compared to traditional projector lamps which run for 1000-5000 hours, the LED models can cater to your requirements for 10000 or even 20000 hours. This serves as a big advantage in multimedia setups since replacing traditional lamps can prove to be an extremely costly affair. The energy-efficient LED lamps also do not require any cool-down or warm-up time and are much quieter.
1. ViewSonic PA503S 3600 Lumens SVGA HDMI Projector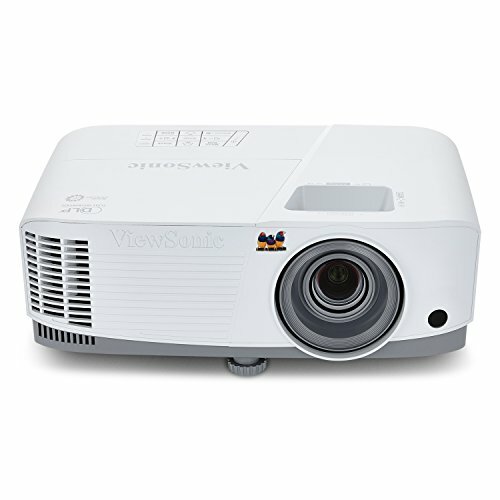 This high-performance projector featuring a native SVGA resolution of 800*600 and 3600 lumens of brightness can be your perfect entertainment companion on the go.
Its intuitive and user-friendly design gets accentuated by the exclusive SuperColor technology with dynamic lamp control capabilities and 6-segment color wheel offering a wider color gamut which paves the way for beautiful image production irrespective of the environment.
Extensive connectivity including 2xVGA, HDMI, VGA out, composite video and audio in/out is featured by the PA503S projector. The SuperECO mode allows to reduce the projection brightness up to 70% which in turn reduces the lamp's power consumption and the overall cost of ownership.
The lamp life thus gets extended by 15000 hours which can surely free you from worries of frequent lamp replacement. Flexible connectivity options and advanced audio-visual attributes of the PA503S at an affordable price makes it the perfect pick for both small business and educational environments.
The projector can be mounted on a camera tripod and does not emit any fan noise which otherwise would have hindered your viewing experience.

PROS:
High contrast ratio produces bright images.
Ultra-low input latency of 16ms provides faster frame-by-frame action which translates into smooth images devoid of any delay.
Can project 120 inches of screen from a distance of 15 feet 8 inches.
Easy to setup and operate.
1 year's warranty on lamp life and 3 years' warranty on labor coverage and limited parts.
Compatible with a wide range of PCS, media players, gaming consoles etc.

CONS:
Built-in speaker is not up to the mark and you might be required to connect it with external speakers for deriving the desired sound output.
2. BenQ SVGA Business Projector (MS524AE)
This lightweight projector by BenQ brings ahead outstanding brightness and contrast making it perfect for both presentations and movie viewing irrespective of the environment.
The picture quality gets accentuated by 3300 lumens of high brightness which can allow you to conduct presentations in well-lit rooms so that your team members can take down notes and discuss important topics without facing any hindrance.
The powerful native contrast of 15000:1 coupled with state-of-art DLP technology and all-glass optical lens system deliver supreme clarity, razor-sharp readability and smooth gradational mid-tone color transitions to help with compelling corporate visual communication.
Optical widescreen image which can cater to commercial and business projection requirements is delivered by an aspect ratio of 4:3 and SVGA resolution of 800×600 pixels.
Dual VGA and HDMI inputs have been specially engineered for hosting multiple presenters and their peripherals at the same time without the requirement of time-consuming IT support and complicated adapters.
Additional flexibility is also imparted by the triple adjustment feet which in turn facilitates easy movement of the projector for getting the best possible view.

PROS:
Supports 3D projection.
Can project up to 130" images without blurring the same.
Brightness is retained even in the Eco mode for clear projection of movies.
Quiet fan which does not disrupt the movie viewing experience.
Crisp image devoid of any light bleeding.
Features zoom and focus capabilities.
Eco-friendly model having low cost of ownership.

CONS:
Digital keystone correction.
3. DBPOWER Projector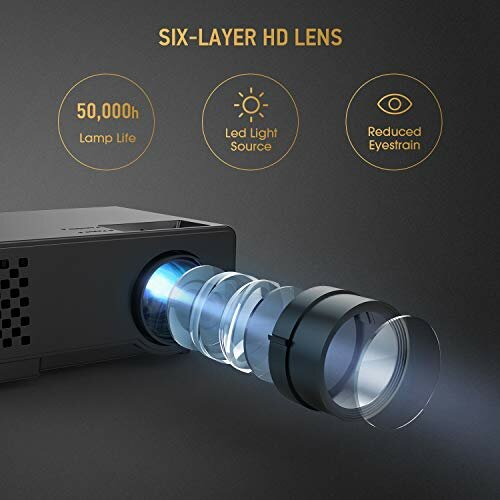 Whether it is your favorite soccer match or Hollywood blockbuster, nothing can match up to the glamour of watching it in a giant screen of a projector.
And when the projector in question comes with 27 different color enhancing technologies, you can surely expect images which are 50% sharper and 70% brighter than its peers.
Today we present to you the RD-810X portable mini projector from DBPOWER which has been crafted for catering to your entertainment requirements on the go.
The sleek design of this projector gets the backing of an extremely intuitive yet basic layout which can be figured out even by amateurs with utmost ease.
You can find a small checkerboard styled vent and lens at the front of the projector while its top features a dial for adjusting the focus level and keystone correction.
You can find an array of connection ports at its back ranging from HDMI to USB port, AV plug, headphone jack, VGA port and an infrared LED.
Five short rubber feet can be found at the bottom of the projector which prevents the same from sliding off smooth surfaces such as shelves and cabinets.
When it comes to compatibility, the DBPOWER projector offers supreme versatility for being hooked up with gaming consoles such as PlayStation 4, Xbox 630 as well as tablets, computers, USB devices, HD set-top boxes, laptops and smartphones.

PROS:
Upgraded LED source technology renders adequate protection from direct and blue light.
Double tube cooling technology aids in efficient heat dispersion while cutting down the fan sound to an exact half.
Gigantic display size ranging from 32-176"can be enjoyed by positioning the projector at a distance of 1.5-5m from the screen.

CONS:
Might not be of much help in office presentations.
Doesn't feature a built-in stand which could have otherwise been of great help in altering the projection angle.
4. Optoma S341 3500 Lumens SVGA 3D DLP Projector

Deliver your presentations with 3500 ANSI lumens of brightness as the Optoma S341 DLP projector brings ahead brilliant colors which is bound to delight its users.
You can take your pick amongst an array of connectivity options such as VGA-In, VGA-Out, HDMI, Audio-In and Composite Video for projecting the contents of your choice.
Its versatile Edge Mask feature eradicates jagged and soft edges at image borders to pave the way for consistent and smooth image. Brightness of projection surfaces having varying colors get enhanced through its Wall Color Adjustment feature which can be of great help while projecting on a wall which is not white in color.
REC.709b color accuracy lights up the sRGB display while enabling rich and accurate color which can be used with a Mac, PC or any other sRGB-compatible sources.
The LED lamp can sustain its vigour for a stretch of 10000 hours so that you can make the most out of extended viewing without crossing over the affordability parameter.
Coupled with such attributes, your presentations can sustain for hours without the requirement of frequent bulb change.
The dual combination of advanced optical lens and a stellar contrast ratio of 22000:1 paves the path for deep shadows, highly detailed graphics and astonishing textures in presentations.

PROS:
Can be carried around easily given its lightweight build.
Various gamma profiles utilized by the Wall color adjustment feature for improving projection surface brightness.
Extensive connectivity options.
10000 hours of lamp life reduces cost of ownership.
Can be used for rear projection.
Audio output on 3.5mm aids in feeding the signal to the amplifier.

CONS:
Zoom adjustment might not be of much help in toggling between varying screen size.
5. ELEPHAS High Brightness Video Projector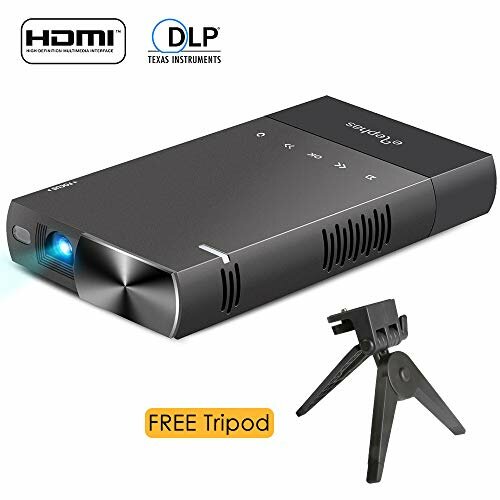 This powerful and portable projector having high brightness and outstanding contrast can be your perfect option for both home and outdoor entertainment.
You can take your pick amongst Miracast, DLNA and AirPlay for connecting your iPad or iPhone via the lightning cable without the requirement of any other adapter for hassle-free usage.
The latest multi-screen technology thus assists in projecting the screen of your smartphone or tablet onto a 130" gigantic screen. A clear and comfortable listening experience is guaranteed by the built-in HIFI sound which is bound to delight audiophiles to core.
They can also connect external speakers for making the most out of a holistic audio-visual experience.
Its retrofitted and upgraded cooling system greatly reduces the fan noise so that you can cater to your entertainment needs without having to worry about the distracting fan noise causing any hindrance.

PROS:
Works well even in the presence of ambient light.
Speaker is loud enough for covering the slight noise emitted by the projector fan.
Equipped with an array of ports such as VGA, HDMI, USB and AV.
Small size imparts greater portability.
5200mAH battery can sustain 2 hours of continuous usage on full charge.
Long lamp life of 20000 hours.

CONS:
Lacks ceiling mount.
Standard USB charger cannot be used for charging this projector.
Keystone correction could have been better.
6. PRAVETTE Home Theater Mini Projector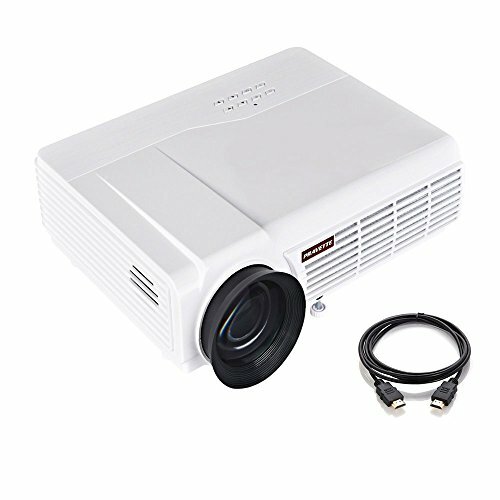 You can now enjoy brighter and sharper images accompanied with the portable projector from Pravette which has already curved out a niche for itself in the market with its versatile operations.
You can use this projector both for home entertainment and official usage as it supports everything ranging from movie files to PowerPoint presentations.
Its lightweight build aids in carrying around the mini projector in a seamless manner. The universal threaded mounting inserts support both upside-down and standard mount while the super resolution detail enhancement accentuates the final look and feel of a standard-definition video.
Last but not the least, its stellar after-sales support can guard your back if your projector faces any technical or quality issues.

PROS:
Can be hanged from the ceiling through the connector at the bottom.
Adjustable throw ratio aids in altering the screen size without having to move the projector.
Supports rear projection.
Dual built-in stereo speakers which can churn out an excellent output.

CONS:
Lacks lens shift feature.
Lacks Wi-Fi and Bluetooth capability.
Does not have SD or Micro-SD slot.
Lacks 3D capability.
7. Bnest LED Home Video Projector

Bring the big screen entertainment within the four walls of your room coupled with the BNEST video projector which operates with the stellar combination of 1280*800-pixel resolution and 3200 luminous efficiency.
A wide color gamut of 1.6 million is guaranteed with its sharp contrast ratio of 2000:1. You can toggle between picture sizes of 33-180 inch although 130 inches from a distance of 2-2.5m is considered to be optimal for making the most out of the entertainment experience.
Its HIFI Level Stereo Speaker having SRS Sound features a built-in amplifier chip which brings ahead advanced cooling while diminishing fan noise.
The BNEST projector supports HDMI, AV, VGA and USB connectivity which aids in connecting with the Roku Streaming Stick, Amazon Fire TV Stick, Chromecast, PS3, PS4, Blue-Ray DVD player, Xbox, TV box, PC, External speakers etc.
Compared to traditional projectors, the LED light source brings in much more energy efficiency with 25 times superior light quality, radiating warmth, zero flashing and extensive eye care.
The improved heat dissipation structure aids in reliable cooling while cutting the fan sound to an exact half.
You can adjust the focus and keystone correction simultaneously for obtaining a satisfactory image quality. The unique zoom function aids in changing the picture size without having to move the projector physically.

PROS:
3200 lumens of brightness light up the screen in an efficient manner.
Easy keystone adjustment by simply dragging the button.
Internal speaker to cater to your audio requirements.
Effective cooling system which in turn adds to its longevity.
Can cast wirelessly through Miracast, Android or AirPlay.
Smooth and sleek design with a number of ports located at the back.

CONS:
Acts as a dust magnet.
Cannot be used effectively under broad daylight.
A book has to be placed underneath the projector for lifting the screen up.
8. PoFun (2018 Upgarde) Mini Portable Video Projector

The Mini Smart projector working on the latest Android 7.1 system aids in using a wide array of applications including PPT, PDF, Ms Word, Music player, Movie player, Facebook, NetFlix, YouTube etc. Coupled with 4200mAh of battery life, the PoFun projector can keep your back for a stretch of 2 long hours to satiate your entertainment needs.
You can connect your headset and speakers using the wireless transmission for ushering in a whole new level of sound experience.
By connecting the Pico projector through the USB port, you can project the screen of your smartphones through a USB cable, lightning cable or Type-C cable.
A year's warranty and round-the-clock technical support can cater to your queries and technical glitches in the projector. The automatic trapezium correction and unique aluminium alloy shell design adds to the durability of the projector.

PROS:
Compact projector which is accompanied by a remote and tripod mount.
Supports multiple languages.
Comes with Android 7.1 which works as a portable smart TV on its own.
Durable build quality.
Bright and clear image resolution.
Long running lamp life of 30000 hours.

CONS:
Keystone correction is not automatic.
9. GooDee Video Projector 

You can now experience cinematic theatre without leaving the comfort of your house coupled with the GooDee video projector which brings ahead 70% more brightness over its contemporaries.
With such attributes, the YG600 projector can serve as the ideal pick for games, movie projections, graphics and presentations.
The projector utilizes LCD display technology and LED light source to ensure lower energy consumption when compared to conventional bulbs while enhancing its life span at the same time.
You can project between 44-200 inches of screen from a distance of 4.9-18 feet although a size of 98 inch from a distance of 10 feet is considered to be optimum.
An array of connectivity options through USB, HDMI, Micro SD, AV, VGA and Audio Out 3.5mm is supported by the YG600 which adds to its versatility and convenience of usage.
Its powerful cooling system helps with heat dispersion and lowers down the system noise so that your movie-viewing experience does not get hindered.
The dual 3W speakers and SRS Sound provides crystal-clear sound quality which can add an extra spark to those suspense movie screenings.
The GooDee manufacturers come with a 3-year warranty to keep you covered from technical defects. You can achieve multi-directional projection in accordance with your needs simply by adjusting the text direction.

PROS:
Easy to setup.
Durable projector having great resolution.
Powerful cooling system.
Dual built-in 3W powerful speakers.
30000 hours of LED lamp life.

CONS:
Speakers are good for indoor usage but might not be sufficient for external use.
Hard to adjust the focus.
Might be a bit noisy at times.
10. TANGCISON Home Projector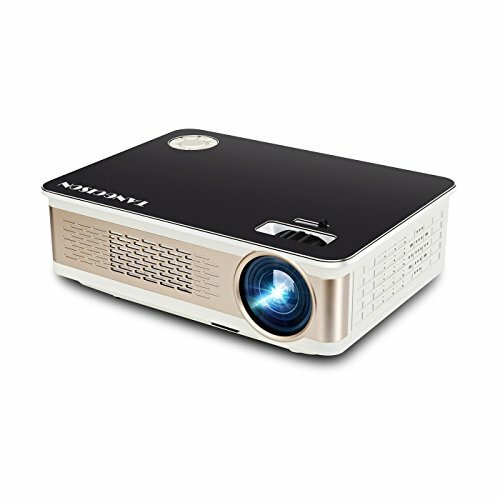 Coupled with 3300 lumens of brightness, the Tangcison home projector delivers a home theater experience like none other. You can be guaranteed to enjoy crystal clear images as 1080 pixels light up the screen for a delightful experience which accentuates when viewed in complete darkness.
You can project images sized within 30-280 inches from a distance of 3.3-23 feet although 80-150 inches is considered to be ideal when projected from 8-16Ft.
More than 20000 hours of lamp life guaranteed by the projector can suffice your requirements for a stretch of 12 long years with 5 hours of daily viewing.
For making the most out of this projector, it is advisable to project the same on a highly reflective surface. You can easily establish connectivity in between your projector and an external peripheral through the HDMI adapter.
State-of-art cooling system along with noise reduction technology ensures that your movie viewing experience does not get disrupted.
Compared to its peers, the Tangcison home projector features a textured metal surface which brings ahead enhanced durability as you engage in front, rear and suspended ceiling projection.

PROS:
Excellent picture and sound quality.
Lightweight and handy projector perfect for those who are always on the move.
Comes with a remote control, power cable, user's manual and HDMI cable.
Offers complete value for money.
Extremely easy to adjust focus and keystone.

CONS:
Doesn't have Bluetooth audio.
Conclusion
Projectors are opening up brand new usage avenues with each passing day coupled with advancement in technology. Whether you wish to watch a movie at your drawing room, the backyard or even a friend's house, the modern-day projectors ranking high in portability can keep your back at all times. Manufacturers are also packing in a higher lumen count so that the projector retains its brightness and vivacity even in well-lit rooms. This can be of great help during business presentations or class lectures where other participants wish to jot down important points.