Last updated on January 29th, 2019 at 01:34 pm
Can anything be more luring than plunging into the comforting arms of a plush recliner after returning home from a hectic day at work?
We bet not and that is the very reason behind its growing importance amongst millennial households.
The athletically built alpha males who might be stealing away all your girlfriends for so long might face substantial problems in using a recliner made for average-sized people.
Instances are not rare when these swanky hunks are seen sitting like that of a grasshopper with their knees bent and brushing past the earlobes.
The head and neck support also proves to be inadequate for their humongous frame in most of the cases causing their heads to hang over the chair's back edge.
A tall man might also find it extremely difficult to stand up from the average recliner given its proximity to the ground level paving the way for further discomfort while others might feel sandwiched between the armrests given the narrow seat structure.
Fortunately, manufacturers have answered this ardent call of big and brawny men with modern age designs which include seats set higher from the ground, longer length from the end of the footrest to the seat and extra cushioning to render adequate support to the board structured lot.
Today we have collated the ten best heavy duty reclines which can cater to your space and weight requirements like an absolute pro.
And the good news just doesn't end here as the recliners come jam-packed with an array of mind boggling features ranging from in-built vibrators to wall-hugging dynamics for making the most of limited space problems.
Things to Consider Before Buying The Best Recliner for Tall Men
Purchasing furniture can be both overwhelming and exciting at the same time. Recliners positioned usually in the living room and meant for regular usage. Thus, it is imperative to strike the right cord of harmony between comfort requirements and artistic decorum. There are a few pre-requisites of purchasing a recliner which can have a pivotal role to play in ensuring your health and happiness in years to come.
Size
Recliners can come in a variety of size options with some resembling an average armchair while the others radiate a feel of luxury which can easily serve as the love nest for snuggling couples. For tall people, it is imperative not to purchase a recliner having a low back. However, it needs to be tall enough for resting your head while the height of the seat should be such that your feet can rest comfortably on the floor. The depth of the seat determines whether or not yours thigs shall stick over the edge. Thus, a super wide chair meant for big people might become a tad uncomfortable if you wish to snug between the armrests. It is also necessary to consider whether you can stretch out and impart necessary support to your body parts while being seated in an upright position. Thus, rather than searching for the biggest XL recliner available in the market, your core goal should be bringing home something which is in sync with your specific build.
Comfort & Durability
The quality of materials used, trustworthiness of the manufacturer and build attribute has a great role to play in determining the end durability and comfort offered by the recliner. You can browse through customer feedbacks before taking your pick to ensure that you don't have to replace the recliner frequently. Hardwood is any day the best frame option whereas some less expensive chairs also make use of particle board and plywood. These might come off as strong initially but reveal signs of weakness with passing days. You can examine the chair's underside by raising the footrest for a clearer view. Check out if the screws are well-braced for the job and whether the wood has been stapled properly as they usually have a tendency of separating over time. The lever releasing the footrest should not wobble and must be extremely easy to use. Certain levers have to be operated at a specific angle for getting the best results which naturally is not easy for a first-time user to accomplish. Users are advised to repeatedly operate the footrest and reclining mechanism to check out their operational consistency over chances of glitches or kinks. You can also give the chair a proper side to side shake to see if it can retain its sturdiness.
Budget
Having a price target in mind can be of great help in aligning your preferences towards your budget and proceeding with the purchase decision accordingly as recliners can vary significantly in price depending upon its quality and comfort.
Style
Whether you just wish to be practical or add an aesthetically appealing touch to your living room, the styling options are plenty when it comes to choosing a recliner. If you wish to bring home a classic design which can sync seamlessly with the surroundings, then it is always advisable to proceed with a leather chaise or something in a neutral tone.
Safety
Recliners might pose safety concerns given their moving parts. You should primarily examine if there is any gap in between the extended footrest and the seat. Certain recliners don't have much gap as the area remains covered with the material and even if there is some gap, you need to make sure that the same does not exceed five inches for preventing slippage of pets and children. It is also essential to check if the chair tweaks while putting the footrest down as getting your skin or clothes caught in the footrest mechanism can pave the way for a highly undesirable scenario.
Heating
This popular attribute of recliners can bring along far-fetched pain relief from all those sore muscles. A massaging function often couples this function although the heat can be utilised without massaging. The quantum of heat generated can be controlled by the user making it a favourite amongst those suffering from muscle stiffness and arthritis. You should examine the heat function for a stretch of five minutes at the very least to ensure that it reaches full temperature within a reasonable time span. The heating mechanism should be turned off while getting out of the chair.
Warranty
With prolonged usage, your recliner is bound to undergo considerable wear and tearwhich can completely damage it in its entirety. This is where a warranty comes to play. However, it is crucial to note that the warranty might get nullified from the application of chemicals on the leather or fabric.
Material
Whenever we think of recliners, the first thought which crosses our mind is premium leather. However, upholstery materials bring under its radar an array of other fabrics as well. Fabric connoisseurs have devised the Piling and Wyzenbeek tests for examining its durability. Finer fabrics are not suitable for recliners given the extra pressure felt when compared to a stationery furniture.
1st –  Lane Home Furnishings 1407 Stallion 1384-17 Recliner
Whether you are suffering from arthritis or simply recovering from a recent surgery, mobility tends to stand hugely affected by the same.
In such a scenario, a recliner can come to your assistance as it allows you to rest through the day by scanning through your favorite novel and even take short naps whenever you fancy.
The casual and modern look of the Lane 1407 Stallion Wall Saver recliner can serve as the ideal addition to your living space and even accentuate its aesthetic appeal.
You can easily pair up the same with a floor lamp, bookcase and chairside table for that cosy reading corner types feel.
The manufacturers have kept in mind the cramped space of modern day apartments while designing this recliner which comes with a steel frame outfitted with a lever-recline function.
This makes this recliner a wall-saver option requiring minimal wall clearance by catering to your mobility causes.
While the entire recliner comes wrapped in generous foam pads, an additional pillow-top layers its rolled armrests and cushions.
The soft polyester upholstery of this Lane recliner further adds to its comfort meter and seems extremely plush on the skin.
This masculine chair can sustain the maximum weight capacity of 500 pounds thus serving as the ideal gifting option to broad structured people.

PROS:
Sturdy and strong recliner serving as the ideal crushing pad for tall and well-built men after a hectic day at work.
Heavy-duty steel frame renders support to 500 pounds of body weight.
Reclines up to 79 inches which can almost imitate the feel of lying down on a king-size mattress.
Easy to follow instructions make chair assembly seem like child's play.
Soft polyester fabric upholstery adds to the degree of comfort and also feels extremely plush against the skin.

CONS:
Chair does not rock.
Small lever which is pretty hard to pull makes it necessary to opt for a lever extender.
2nd – Ashley Furniture Signature Design – Hogan Oversized Recliner

Crafted to perfection using the finest of materials, the Ashley recliner epitomizes comfort, style, and endurance in a never thought before manner.
Constructed skilfully using 100% genuine leather and matched faux versions, this velvety cloud-like experience is bound to linger around even while you have left for office.
This 44-inch-deep and 59-inch-wide recliner from the house of Ashley can easily accommodate two smaller people who wish to make use of the same as a love seat.
This zero-wall recliner can be set up against the wall as sturdiness gets guaranteed with its reinforced metal seat cushioned with foam.
It can also suffice as a fully functional bed for people who find it extremely difficult to sleep in a totally prone posture.

PROS:
Contemporary design.
Extremely wide seat can be perfect for giant men.
The hustle back improves lumbar support and is an excellent choice for people suffering from back issues.
The leather recliner easily fits in with the existing furniture setup while accentuating the aesthetic appeal at the same time.
Buttery smooth mechanics help in setting both the chaise upright and reclining in a hassle-free manner.
The stuffing can be removed from the chair if you think that it is too bulky for your comfort.

CONS:
Only a single color option for the recliner.
No suitable for cramped living quarters or small apartments.
Chair assembly can be pretty tricky.
3rd – Power Lift Recliner
The Coaster Power Lift recliner has been designed in such a way that it seems like yearning to give you a cosy hug from the very first instance.
Its charcoal color and thick padding never fails to convey an unspoken invitation of cuddling up on the same on a chilly winter afternoon with a cup of steaming hot coffee and your favorite novel.
The classic and simple design of this recliner can easily blend in with your living room aesthetics while accentuating the same.
The textured chenille upholstery of this chair adds an upscale elegance and also feels extremely plush against your skin.
Effortless comfort stands ensured by its seamless reclining mechanism which can be activated through fingertip touch.
Gone are the days when you had to struggle with the lever for getting into your favorite posture.
This comfortable chair makes sure that your comfort meter stays filled round the clock even while you are trying to toggle between postures.
Both the lift and reclining mechanisms are power activated.
You can even place the power cord in the accompanying side pocket while watching your favorite Netflix series with a tub of caramel popcorn.
This 31-inch-wide recliner can sustain a maximum weight capacity of 350 pounds.
It even comes backed with a 5 years' warranty on the functioning of its lift mechanism thus keeping you safe from having to worry about costly replacements.

PROS:
Can sustain the maximum weight limit of 350 pounds making it the ideal option for heavy people.
Birch and plywood construction imparts adequate level of durability while catering to the comfort meter like a pro.
Charcoal hued upholstery buffers the chair from getting dirty too soon thus making maintenance a hassle-free affair.
Side pocket proves to be exceptionally helpful in storing away remote and similar small items.
Reclining and lift mechanisms are powered to assure you greater ease of use.
100% polyester feels great on the skin and does not trigger any sort of irritations even during the humid months.

CONS:
Feet and back recline cannot perform independently from each other.
4th – Flash Furniture Plush Brown Leather Lever Rocker Recliner with Padded Arms
This reclining furniture having plush upholstered arms and bustle back cushions aim to provide exceptional level of comfort for crushing in after a stressful day at work.
Its gentle back and forth rocking motion offers a soothing sensation to both adults and babies alike.
The softness of its texture gets guaranteed with the usage of polyurethane which also aids in reducing the effects of wear and tear.
The leather offering from the house of Flash rocks while being placed in an upright position and the user needs to adjust the lever located on the right-hand side for reclining his position.
A damp cloth is enough for cleaning this premium recliner although occasional usage of leather conditioner is also recommended for cleaning up the cushioning constructed using fire-retardant foam.

PROS:
Extremely reliable and durable.
Natural brown finish blends seamlessly with all forms of décor.

CONS:
Reclining mechanism lacks adequate smoothness.
Equally difficult to return back to the upright position.
5th – Catnapper Power Lift Full Lay-Out Recliner With Comfort Coil Seating

Ageing is inevitable but we can definitely make it worth the squeeze braced with the incredible combination of convenience and comfort which the modern-day recliners offer.
Manufactured using sleek and stylish leather, the Catnapper Power Lift blends in the premium feel of a cushy memory foam filling and plush pillow back with the functionality of its power reclining feature which gets covered under a warranty of 5 years.
The hardwood frame ensures its durability even after regular use which can relieve body pressure points with time.
The recliner can be easily cleaned with a damp cloth to maintain its lustre while is provides support to big and brawny members of the family falling in the 450 pounds of weight category.
Its 2-9-volt battery backup ensures that you can indulge in some thoroughbred pampering even when the power goes out.

PROS:
Easy to assemble.
The lift chair can be used in infinite positions.

CONS:
Takes up a lot of space and have to be placed at a distance of at least 16 inches for the wall for benefitting from its full reclining feature.
6th – Lane Furniture Luck 41398P 4169-22 Pad-over-chaise Rocker Recliner
With multiple layers of cushioning around the entire seat, the Luck 41398P from Lane Furniture can serve as your ultimate resting pad after returning from a hectic day at office.
Whether you are trying to take a power nap in between changing shifts or simply spending a laidback Sunday afternoon with a cup of hot coffee and your favorite novel, the plush recliner from Lane furniture can keep your back at all times.
It has also been proven to be helpful for people suffering from back pain as it alleviates all signs of discomfort with repeated usage.
The causal recliner having an attractive brown upholstery can also serve as a significant addition to your existing room décor.
These chairs are manufactured in US where quality assurance serves as one of the topmost priorities.
The construction starts with hardwood frames which are brought together with the tenon and mortise joints for ushering in superior durability.
A smooth transition is offered by springs which make it extremely comfortable to sit on the cushions and rejuvenate your tired nerves.
Individual pocket coils are wrapped together along with a layer of soy based foam for imparting a premium feel to the seat cushion while offering the seated users with ultimate comfort.

PROS:
Extremely comfortable to sit on.
Features layers of cushioning around the entire seat, footrest area and even the armrests.
Casual style can easily blend in with your existing room décor.
Crafted using rough and tough materials for heavy-duty usage.

CONS:
Cannot be reclined fully to a complete sleeping position.
7th – Mecor Massage Recliner Chair Leather Heated Lounge Living Room Chair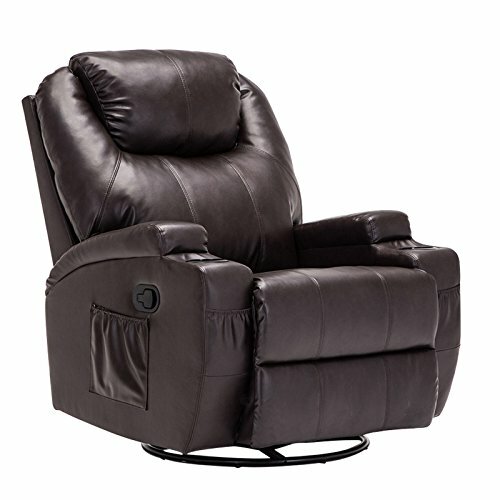 Designed to ergonomic perfection, the Mecor Massage Recliner Chair is more of an investment compared to a casual purchase if you wish to bring home a stylish pamper expert who can get the ball rolling in your favor.
The chair can be the perfect pick for executives who wish to relax and indulge in some power-naps in between hectic work sessions courtesy its reclining, rocking and full 360-degree swivelling functionalities.
Its thick padded armrest and 8-massage nodes operate in unison to delight users with supreme back, legs and lumbar relaxation as well as never-ending comfort.
Its massaging functionalities have also been linked with relaxing stretch joints, relieving neck pressure, stretching shoulder muscle and bringing far fetched benefits to the spine.
The add-on cup holders can be perfect for storing your pina colada or virgin mojito while taking a pop-corn break for relaxing on those lazy Sunday mornings and binge watching the entire Game of thrones season.
Providing support to a maximum of 400 pounds of body weight, the plush recliner constructed using high quality PU leather can be perfect for spending hours without developing any skin irritations.
The Mecor chair reclines up to 135 degrees making it perfect for people who have just undergone a back surgery. The front and side built-in pouches make it easy to store the recliner remote.

PROS:
Padded armrest provides extra comfort.
Well distributed vibration for making the most out of the massage sessions.
Footrest massagers for pampering you to the fullest.

CONS:
Difficult to get up from seated position.
Footrest lacks adequate padding.
Occupies a lot of room space.
No way to turn on the heating function without having to feel the vibration all along.
8th – Simmons Upholstery Wisconsin Beautyrest Rocker Recliner
The uber comfortable Beautyrest rocker recliner has been crafted using high-density foam cushions and sinuous wire springs for providing incredible support to your body while you relax in style.
Premium quality hardwood materials serve as a potent base for its durable design which can easily cater to tall and big structured men while wrapping them up in the arms of plush comfort.
This chocolate hued chair which can easily blend in with your living room aesthetics.
Most people can't tell the difference of its faux leather upholstery from real leather as it looks just like the original.
With a maximum weight capacity of 300 pounds, this lounger can be used for reclining back pretty far although it doesn't lose out on its stability so that you can make the most out of your relaxing experience.
This king-size recliner has been built in the traditional style with both powered and manual reclining mechanisms which can be engaged according to the requirement of the user.
Another stellar attribute of this recliner is that it also functions as a rocker thus making it a perfect option for those laid back Sunday evenings when you just wish to marvel at the sunset with a cup of hot coffee.

PROS:
Pub-style design along with tuft details makes this recliner both good looking and comfortable.
Sturdy wooden frame of this recliner uses pocketed coil seating for greater comfort.
Chaise comes fully padded and armrests have been designed in the form of a padded barrel to mimic the experience of sitting on a cloud.
Chocolate brown faux leather upholstery is extremely easy to clean and maintain.

CONS:
Can take up a fair amount of your living room space.
9th – Catnapper Cloud 12 Microfiber Power Oversized Recliner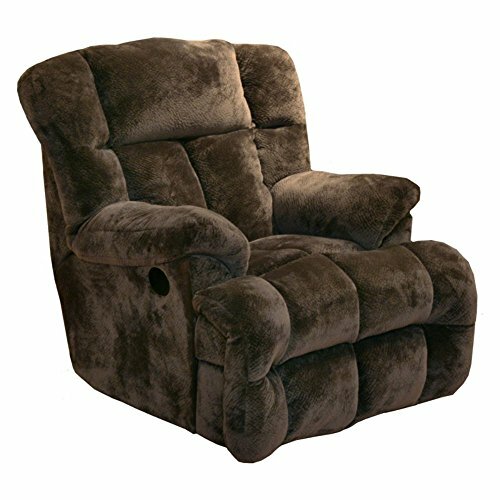 The lay-flat recliner can attain a perfectly horizontal position through a simple push-back motion.
Its soft velvet upholstery and plump foam cushions can pamper you with the ultimate relaxation bliss while smooth movements get guaranteed by its wooden engineered frame which maintains its quality even after heavy-duty usage.
Designed to render support for the tall and well-built men weighing up to 250 pounds, the tall back and wide seat of the Catnapper recliner ushers in supreme comfort.
It can double as a kind-sized bed when reclined fully making for a generous size to roll over and destress.
While cleaning this pillowy goodness, it is imperative to use a proper fabric cleaner and pay special attention to the deep crevices especially in the back-padding portion.

PROS:
Power recliner making it easy for usage by rookies and first-timers.
Premium look and feel to easily blend in with the interior aesthetics.

CONS:
The spring back can be felt because of the fixed stuffing.
10th – Catnapper Teddy Bear Inch-A-Way Oversized Chaise Recliner Chair

Designed to usher in ultimate comfort, the Catnapper recliner delights with its pillow soft chaise pad seat, plush armrests and roomy seating area.
This stylish chaise chair can be the perfect spot for resting those tired nerves after a stressful day at work.
Made from 100% Polyester materials, the oversized padded foam back of the Teddy Bear recliner can wrap a 250-pounds man in wings of plush comfort.
Its patented Omega reclining Mechanism makes sure that you can adjust between positions with utmost precision without creating a ruckus.
The Direct Drive Cross Bar warrants that both the sides of the mechanism operate in harmony for enhancing its tenure while the Unitized steel base imparts a premium look to the recliner's bones of steel making it one of the most durable rocker base in the market of recliners.
The super productive spring system resists wear and tear as well as bending paired with the 8-gauge sinuous No-SagTM pipes which spring in the box for imparting additional flexibility and strength on the go.
The computer-positioned steel clips inserted in the steel seat box minimises the usage of wood which often paves the way for splitting and warping with time.
Steel "L" brackets are screwed on each of the corner joint of the double doweled hardwood seat box for increased durability. Heavy duty bolts are used for attaching the arm assembly to the seat box to keep it from falling apart.

PROS:
Wall Hugger and Swivel glider options for users to choose from.
The removable back helps in transporting the rocker to different rooms through narrow doorways.

CONS:
Cannot support the common standard of 350-pound weight.
Does not come with the rocking facility.
Does not recline to a completely flat back.
Major Recliner Types to Take Your Pick From
Rocker Recliners
These double both as a recliner and a rocking chair making it a great option for families having both young children and people for whom the rocking motion is a necessity for getting a good night's sleep. You can sit in the rocker recliners just like that of an average chair when your foot is not darted out.
Massage Recliners
Just as the name suggests, this plush and luxurious chair can serve you with a soothing massage as you relax with tranquilising music playing in the background. These recliners usually make use of vibrations and rollers for stimulating and kneading the muscles. Advanced massage recliners are known to replicate the sensation of human touch for recreating certain forms of exotic massage simulations. Users can usually adjust the vibration level for ensuring that the same does not end up becoming too loud for their comfort level.
Wall-Hugger Recliners
Perfect for the modern-day millennials who are constantly juggling with the lack of floor space in their apartment, the wall-hugger recliners can be positioned against the wall with its back upright even while leaning back and popping out the leg rest.
The Basic Recliner
These can be categorised in the initial rung of recliners with generic features such as a moving back and lever operated extending footrest.
Recliner Running On Power
By just pushing a button you can get this recliner to serve various purposes whether you wish to sit upright or laze off in a reclined posture. However, the chair needs to be positioned near a wall outlet where the electrical cord gets plugged in. You need to exercise extra caution while using the same as such chords often cause people to trip over.
Lifting Chairs
This is perfect for people who face trouble in standing up after being seated in a particular posture for long. The electric mechanism of this power-lift chair raises and moves it forward to aid the user in standing up.
Oversized Recliners
These giant recliners are meant to fit in the tall and heavy men who would any day find it extremely difficult to sit let alone relax in an average rocking chair.
Reclining Sofas
Having adjustable levels of recline, these sofas are perfect if you wish to share the reclining session with somebody else.
Advantages of Using an Oversize recliner Chair
Recliners can be great investments especially if you are big or tall since regular sofas might not be able to help you feelequally at ease for a large array of reasons. It becomes extremely difficult for the tall people to find the ultimate position which can support their body while rendering the requisite comfort. The ordinary pieces of furniture may not be able to cope up with the weight issues of big people making it essential to bring oversized recliners into the picture. Enough said, let's have a look at the six amazing benefits the recliner ushers in:
It is intensely comforting to relax on an oversized recliner compared to other sofas or chair which might be difficult for you to fit in with that broad or lanky structure. Its unique padding rides high on the support and cushioning meter making them a top pick for the den or living room area.
Sitting on a chair for long can bring upon ill-effects on your blood circulation by pooling of blood in your feet due to the gravitational effects. This in turn can lead to blood clots and swollen feet. A recliner allows us to stretch out our legs by pulling the level thus aiding us in keeping our feet up and ushering in wonderful benefits for our body by maintain the blood flow.
It goes without saying that a recliner paves the way for an ultimate enjoyable experience since you do not have to adjust your seated positioning by getting up. Rather you can simply shift the chair into recline mode for benefitting from the enhanced comfort making it a hot-favourite in cinema halls.
Pregnant ladies can make use of this recliner for coping up with the pain affecting their abdomen and lower back at times. The recliner helps in propping up the feet and taking a break in spite of raging hormones wreaking a havoc inside their anatomy.
Whether you are tensed about the current state of political affairs or some office tension, recliners can serve as the ultimate stress busters for keeping associated ailments at bay.
Although not prescribed for long hours, the recliners can be the ideal spot for taking a power nap given its supportive and comforting stature which cuddles your body irrespective of its length or breadth with the pillowy-soft cushions.
Frequently Asked Questions About Recliners
The Bottom Line
Ranging from benefits to types and much more regarding recliners, we have showered you with a bevy of information which can be of great help while proceeding with the purchase decision. Braced with complete subject knowledge you can leap to an advantageous position over brash salespeople who often tend to push you towards the one recliner which in turn will help them meet their sales target. Since you will be spending a lion's share of your time perched atop the recliner, it is essential to have a clear understanding of its features. At the end of the game you will understand that no chair is perfect. A comfortable chair might not have the massaging facility while the one which fits your size might not have your preferred frame type. The key lies in establishing the perfect trade-off for you to reap utmost benefit out it.